Bundoora Chiropractors Offer Natural Family Health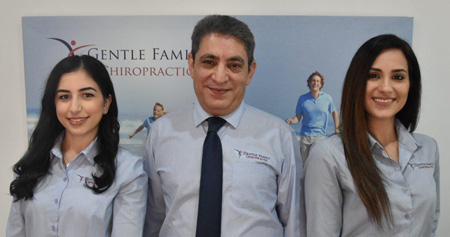 Get Thorough Care at Gentle Family Chiropractic
With over 40 combined years of experience, our Bundoora chiropractors offer you modern, friendly health care. In our happy environment, you will receive the respect you deserve. Our thorough examination process at Gentle Family Chiropractic will enable us to tell you whether chiropractic may work to address your concerns. If not, we are pleased to refer you to one of our many medical colleagues.
Friendly, Family-Oriented Care
Gentle Family Chiropractic's welcoming and friendly environment will make you feel you are more than a patient. We consider our patients to be our friends and give the professional care you deserve. Many people who seek our help are in pain when they arrive. After a few days, our patients are happily pain-free, and in some cases have even been able to avoid major surgery.
Relieving Pain by Addressing the Cause
The pain you are feeling is only a symptom. You can think of pain as a message. Your brain and problem area are communicating to tell you that something is wrong and needs to be addressed. Taking painkillers may work at some stages of the condition. By just covering up the pain, however, the deeper cause of the condition will not be addressed. Our chiropractic treatment will focus on finding the root problem to give you relief.
Eight Signs You May Need A Chiropractor
You don't need to live with pain or discomfort. Chiropractic care has helped many people, and may offer relief to a variety of ailments. Gentle Family Chiropractic helps Bundoora, Mill Park, Thomastown, Newport, Thornbury, South Morang, & Epping locals. Some of the conditions we see most commonly at Gentle Family Chiropractic include:
Headaches and migraines
Pain or stiffness in the lower back
Stiffness in the neck
Work-related injuries
Sport injuries
Hip, knee and ankle problems
Whiplash injuries
Chronic and acute pain
Let us show you all the benefits that our safe, effective healing can bring to your life. Call today!
This clinic has a covid safe plan which adheres to all regulations to ensure the safety of our staff and patients. If you have any symptoms, or have recently travelled overseas, please notify us at time of booking.
Chiropractor Bundoora | Gentle Family Chiropractic | (03) 9467 8222
Proudly serving Melbourne's Northern Suburbs including
Mill Park, Thomastown, Epping, Newport, and Thornbury