Additional Services at Gentle Family Chiropractic
In addition to our chiropractic techniques, we also offer a range of complimentary therapies and products.
Complementary Therapies
Biomesotherapy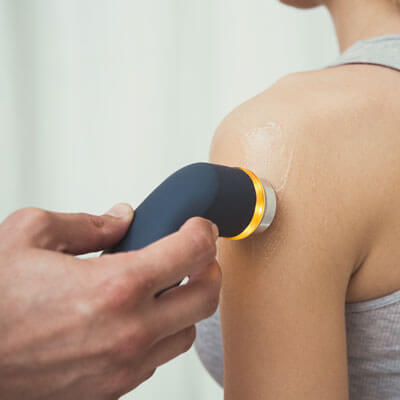 This alternative therapy practice combines homotoxicology, mesotherapy and acupuncture. Saline solution and homeopathic formulations are injected subcutaneously at the specific acupuncture or trigger points. Homeopathic formulations are administered orally during treatment sessions. This method may be effective for pain management and general well-being. Dr Fari Pakzamir (Chiropractor) has taken the necessary coursework to be certified in this therapy.
We use this special type of low level electrical current to stimulate supporting muscles of your spine, reducing inflammation and spasm.
This high-tech tool produces light in the red portion of the spectrum, which has been shown to assist in the healing of soft tissues.
This high-tech deep tissue "micro-massage" helps reduce swelling, increase blood flow, decrease pain, reduce joint stiffness and stimulate cell-repair.
Dry Needling
Dry needling is similar to acupuncture and involves the insertion of a thin needles into problem areas to stimulate the healing process of soft tissues. It helps to reduce muscle tension and relieve pain.
Products Available
We also offer a range of products to help aid your treatment:
Nutritional supplements
Naturopathic and homeopathic products
Pillows
Heat and ice packs
Back and sports injury braces
Orthotics
Get Started Today
We are confident that we can find a way to help you reach better health. Call today to schedule an appointment. (03) 9467 8222
MAKE AN APPOINTMENT
---
Additional Services Bundoora, Mill Park, Thomastown VIC | (03) 9467 8222