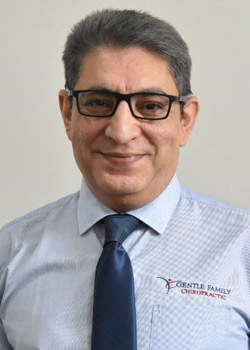 Meet Dr Fari Pakzamir, Chiropractor
Severe Chronic Migraines Led to Chiropractic
Dr Fariborz Pakzamir (Chiropractor) has lived in Melbourne for more than 40 years and prior to that he lived in Sydney, Adelaide and Geelong. He was studying biological and health sciences at Deakin University in 1986 when he started to experience the chronic migraines that run in his family. He was suffering at least a few times a week from severe headaches. Medications offered no relief and several other avenues were also unable to help. A meeting with a chiropractor friend changed everything. Dr Pakzamir (Chiropractor) was hesitant to explore another unsuccessful avenue, but knew he had nothing to lose by letting his friend try to help.
Realising the Power of Chiropractic
After receiving treatment from his chiropractor friend, Dr Pakzamir saw a significant change in his migraines. Straightaway, he became interested in chiropractic. Dr Pakzamir asked so many questions that his chiropractor suggested he observe the treatment of patients at the clinic. These observations made Dr Pakzamir realise that chiropractic may help so many people, including those about to have surgery for different injuries like disc, shoulder or knee problems. It was then Dr Pakzamir decided to become a chiropractor.
EXPLORE OUR TECHNIQUES

Chiropractic Expertise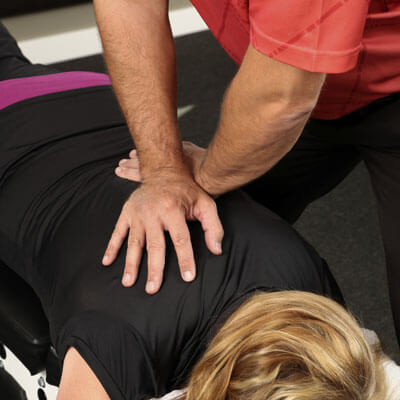 Chiropractor Dr Pakzamir is an Australian based registered chiropractor practising for more than 30 years as well as a university lecturer and supervisor. He attended RMIT University in Melbourne and after studying the intensive 5 year full-time chiropractic course at the school of health science (complementary medicine), he graduated as a qualified chiropractor in 1993. He is a member of the Chiropractic and Osteopathic College of Australasia (COCA), a registered practitioner with Australian Health Practitioner Regulation Agency (AHPRA), a member of the Australian Association of Homotoxicology (AAOH) and holds an additional certification in training and assessment as well as other Australian based certificates mentioned in the next paragragh. He is also a qualified biomesotherapy practitioner.
During the past 30 years of practising as a chiropractor, Dr Pakzamir has always kept updated with the latest health related technologies, treatments and research. He has attended numerous seminars and obtained many different Australian based certificates in different courses including acupuncture, biomesotherapy and biopuncture, lower limb biomechanic, dry needling, peadiatrics, management of knee pain, clinical supervisory, management of headaches, treatment of shoulder pain, RMIT professional developments, and certificate in training and assessment. He has also done extensive studies in diagnosis and management of disc injuries, acute and chronic pain, sciatica, back and neck pain, stress, psychological problems, fibromyalgia, postural problems, scoliosis, headaches and migraine, arthritis, sports injuries, musculoskeletal injuries, ergonomics, transport accident and work related injuries.
Dr Pakzamir has also been involved in teaching undergraduate and postgraduate university students in Australia for several years. He is a clinical educator, supervising clinician and a lecturer at RMIT University. He enjoys continuing his academic involvement and helping other chiropractors and health professionals to develop their expertise. He has also supervised postgraduate chiropractic students of RMIT during their clinical internship to overseas countries.
During his professional career, Dr Pakzamir has given chiropractic treatment to several thousand patients. He is the owner, practice manager and director of the long-time established Gentle Family Chiropractic which was also known as Plenty Road Health Centre in Bundoora, Victoria. He has also practised in several medical centres in different locations in Melbourne. Dr Pakzamir is well known amongst many general practitioners, specialists and surgeons who confidently refer patients to him for chiropractic care. Several of these medical practitioners also receive chiropractic treatment for themselves and their immediate family members by Dr Pakzamir as they have placed confidence in his care.
Community Involvement
Dr Pakzamir stays involved with our community in several ways. He has been a radio broadcaster at 3CR community radio in Melbourne for over 12 years. On Tuesday nights you can hear him educating his audience on a variety of topics including cultural issues, the arts, literature, psychology, personal development and health related issues.
He is a member of various social groups and charities and does volunteer work through these organisations. Dr Pakzamir loves public speaking and has held a number of speaking engagements about personal development and the meaning of life.
Outside of the Office
Even when not seeing patients, Dr Pakzamir is heavily involved with the medical world. He attends medical and chiropractic seminars regularly and is always studying new materials to stay current in health research. He also has a strong interest in acting. Dr Pakzamir has written, directed and acted in a number of stage theatre and movie productions in Australia and overseas. Some of the short films he has acted in have won several international film festival awards in Australia and other countries, the latest one in 2014 in the USA which won the Gold award. He has also produced a poetry/musical CD which also had public performances. In August 2007, after one of his public performances in Melbourne, Dr Pakzamir was awarded the Artist of the Month award from The Boite (an organisation which celebrates Australia's amazing cultural diversity through a prolific program of festivals, events, radio programmess, CDs and publications). This award was presented to Dr Pakzamir in recognition of "his beautiful spoken performances and his sustained contribution to the artistic and cultural life of Melbourne" and it was announced through the media following interviews with him.
Living a Full Life
Dr Pakzamir loves his close-knit family and spends a lot of time with them and his friends. As he has also done a lot of informal studies in personal development, psychology and counselling, he is always ready to help his friends and family members with their personal issues and family problems. He has always loved nature and animals, especially baby ones. Animals gravitate toward him too, unless they are snakes or crocodiles!! Dr Pakzamir also holds his recreational pilot's license and loves flying.
He is passionate about the universe and studies research about it regularly. One of his greatest ambitions in life is to travel to space.
We
warmly welcome
the opportunity to share with you the many possibilities that chiropractic care may introduce to your life. Call today! (03) 9467 8222
Immediate Relief
We'll begin relief immediately at your first visit, keeping your comfort a priority and ensuring you can return to your daily activities as quickly as possible. After you're free from discomfort, our principal focus is to provide healthcare that helps you maintain your wellbeing.
Are you wondering what we may be able to do for you?
MAKE AN APPOINTMENT
---
Dr Fari Pakzamir (Chiropractor) | (03) 9467 8222