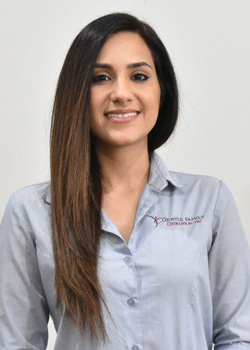 Meet Dr Naghmeh "Natalie" Pakzamir, Chiropractor
Growing up with Chiropractic
Dr Naghmeh "Natalie" Pakzamir (Chiropractor) grew up in a chiropractic family with cousins who are chiropractors. Her mother used to suffer greatly from chronic neck pain in the past. The impact chiropractic had on her mother's life left an early impression. Whenever her mother went to the chiropractor, she was motivated and inspired by the great results. Dr Natalie (Chiropractor) has always been passionate about chiropractic and helping people by not only relieving their pain, but enhancing their health and overall well-being.
In 2012, Dr Natalie (Chiropractor) was involved in a hands on health organisation programme whereby she travelled to India and contributed in providing treatment to hundreds of patients. This experience made her more ambitious and enthusiastic about caring for people.
Chiropractic Education and Qualifications
Dr Natalie (Chiropractor) graduated from RMIT University in Melbourne and demonstrated a high level of scores with distinction throughout her course. After studying first year of Science at Melbourne University Dr Natalie (Chiropractor) transferred to Chiropractic where she studied for three years towards a bachelor degree in health science. These studies were followed by an additional two-year master's degree in clinical chiropractic. Dr Natalie (Chiropractor) is a member of the Chiropractors' Association of Australia (CAA) and as such, is a registered health practitioner with the Australian Health Practitioner Regulation Agency (AHPRA).
Dr Natalie (Chiropractor) stays up to date on the latest developments by attending regular seminars and reading up on the latest health research. She has attended numerous seminars and obtained several certificates including dry needling, peadiatrics, headaches, knee pain, and shoulder pain. She has also done extensive studies in management of pregnancy related conditions, cervicogenic headaches, dizziness and vertigo, frozen shoulder, musculosketal injuries and postural problems.
EXPLORE OUR TECHNIQUES

Outside of the Office
When she is not at the practice, Dr Natalie (Chiropractor) enjoys spending her time with family and friends. She has done some studies in the field of personal development and children's psychology, hence as part of her community activities, she is involved in the education of children. She's also a music lover and plays the flute, and likes to spend her time watching movies and cooking. She often creates dishes from combinations of different cuisines.
Give our office a call today to find out what improvements we may be able to offer your life. (03) 9467 8222
Immediate Relief
We'll begin relief immediately at your first visit, keeping your comfort a priority and ensuring you can return to your daily activities as quickly as possible. After you're free from discomfort, our principal focus is to provide healthcare that helps you maintain your wellbeing.
Are you wondering what we may be able to do for you?
MAKE AN APPOINTMENT
---
Dr Natalie Pakzamir (Chiropractor) | (03) 9467 8222